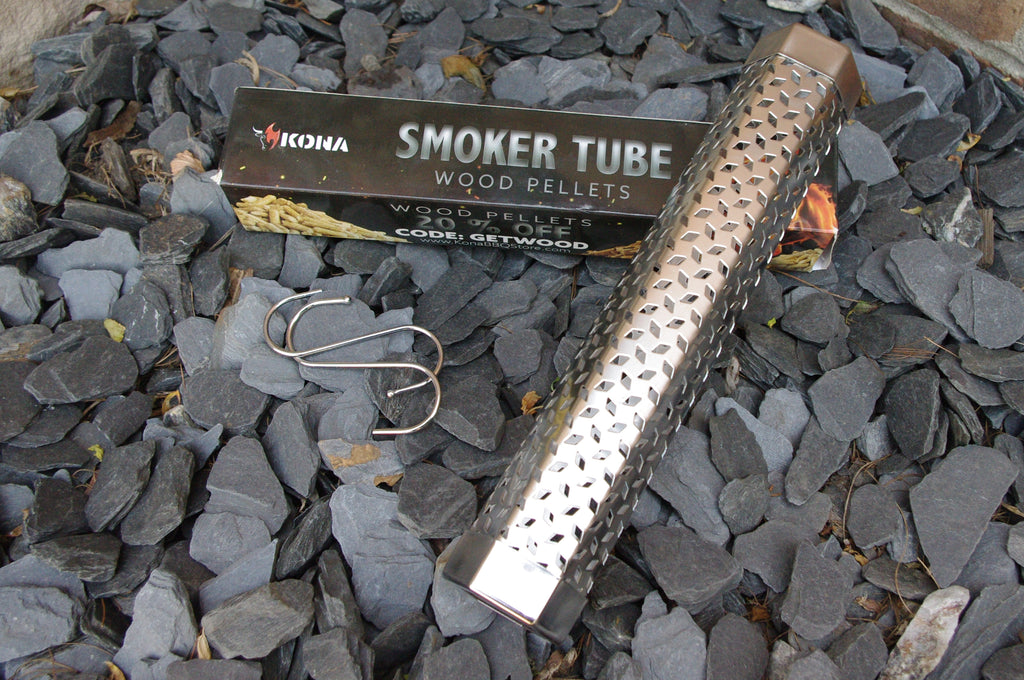 Kona Grill Products
KONA 12" Smoker Tube
Introductory price for a limited time only! Brand new to the website!
One 12" smoker tube.
Adds a magnificent smoky flavor to all types of foods including; Meat, Cheese, Nuts, Homemade Jerky, Salt, Paprika, Veggies, etc.
The premium 20 gauge 12" smoker tube from Kona can be used with all wood pellet varieties to create a full array of smoke flavor. Will not warp or bend. Try with our 100% hickory, 100% Oak, Sweetwood Blend or Competition Blend. Also, works with wood chips.
The 12-inch hexagon large capacity, holds nearly a pound of wood smoking pellets and will produce a uniform quantity of the perfect amount of smoke for up to 8hrs.
Compatible with all grill types. Electric, gas, charcoal, IR, wood pellet grills, etc.



Directions for use:

Smoking - Fill tube 90% full with desired pellet type. Ignite the open end with a pencil torch until ignition. Allow the pellets to burn for 5-10 minutes before blowing out flames.

Grilling - Place 1/3 to 1/2 cup of pellets in the smoker tube and place over direct heat. After 10 minutes, you can move to a cooler part of the grill or turn off the direct heat below it on a gas grill to allow for up to 1.5 hours of smoking time. Alternatively you can leave over direct heat to produce larger quantities of smoke for up to 1.5 hours.

Do not soak pellets before use.
www.konaBBQstore.com
---
Share this Product
---
More from this collection